The site will undergo maintenance between December 26 2023 and January 5, 2024.  The site may be intermittently unavailable at that time.
Say hello to your Americas ambassadors!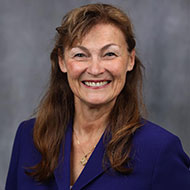 Kay Chopard - WiD ambassador for The USA
Welcome to Women in Identity! I coordinate US-based conferences,events, and membership activities. I also collaborate with Women in Identity leaders in other countries globally. I invite you to participate in the variety of opportunities available. Whether you are new to the identity field or well established in your career, there is something for you. We need everyone to step up and be a part of bringing diversity to identity, supporting women and minorities in STEM, and in leadership. Please reach out to me and let me know your interests and how you would like to participate. Together we can do great things. I look forward to working with you.